hi kabam I'd just like to report someone who has really annoyed me for the last few days. Their username is longknight. I understand there is already another thread on him but nothing has been done and that was a few days ago. Here is a sample of what he does all the time... Hope the pic works...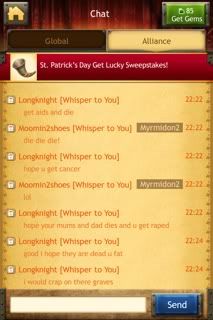 Btw I'm quite upset because as u c in the pic he says he hopes my mum and dad r dead and when I told him my mum is dead he said he crap on her grave and he's happy. I'm 14 yrs old and she only died couple of months ago so I'm pretty p*****d off.

U really need to get some moderators or admins to monitor global and silence those who spam or r vry abusive.